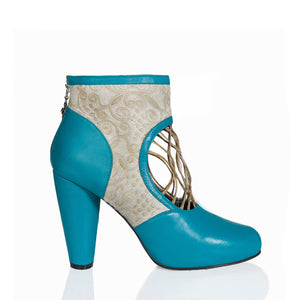 ÚTSALA DAGNÝ túrkís stök pör (36,39, 40,41)
Fullt verð / Regular price 47.900 kr 15.900 kr
ÍSLENSKA: Dagný eru einstakir ökklaskór með faldri upphækkun (platform). Ökklaskórnir eru unnin úr túrkís bláu lambaleðri, laser útskornu hesta skinni og með handgerðum hrossháravafningi, úr íslenskum hrosshárum að framan. Hönnunin er innblásin af náttúru, hrauni, lyngi og stráum. Dagný skóna má nota á marga vegu og auðvelt er að gera skóna að sínum við hvaða tilefni sem er, einfaldlega með því að breyta um lit á sokkum eða sokkabuxum undir.

Hælarnir eru 9 cm háir, en 2,5 cm þykkir faldir pallar (platforms) eru undir sólunum að framan, þeir þykja afar þægilegir miðað við hælhæð, en raunhæð þeirra samsvarar 6,5 cm háum hælum. 
ENGLISH: The Dagný shoes are a unique ankleshoes with hidden platforms and open vamps. The shoes are made of bright turquoise lamb leather, lasercut horse hide with nature inspired pattern and woven Icelandic horsehair. The design is inspired by Icelandic nature, lava and moss, and the materials used are sustainable, by-products from the food industry in Iceland. "Dagný" is the perfect statement pair, that can easily be dressed up and down, as it only takes a change of socks or tights to give the design a new look.
The heel measures approximately 9 cm, with a 2,5 cm hidden platform.