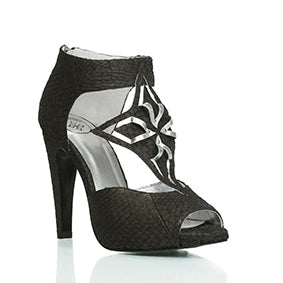 ÚTSALA SNÆDÍS SVART LAXAROÐ / BLACK SALMON
Fullt verð / Regular price 44.900 kr 14.900 kr
Handsmíðaðir hælaskór úr íslensku laxaroði með silfruðu leðurfóðri. Stjarnan er innblásin af íslenskri laufabrauðsgerð og er unnin úr endurunnum áldósum- sem halda þrívíddar forminu á þessu einstaklega íslenska formi. Allir skórnir eru unnir úr fallegu svörtu möttu laxaroði.

Við eigum örfá pör af þessum glæsilegu og vinsælu skóm sem hafa verið lofaðir fyrir þægindi og útlit. Hælarnir (10,5 cm) virka mun hærri en þeir eru, þar sem vönduð hallandi falin upphækkun (2,5 cm) að innan kemur til móts við þá og gerir raunhæð hælanna því 8 cm. Þægindin koma á óvart!

Handmade of Icelandic black mat salmon leather. Elegant and sexy heels, with handmade stars made from recycled aluminium cans, salmon and leather. The 3D stars are inspired by Icelandic traditional "Laufabrauð" bread. The heels are very comfortable for its height, with 2,5 cm hidden platforms. The heels measure 10,5 cm. (Equals 8 cm high heels without platforms)
Unique, handmade, comfortable and limited.