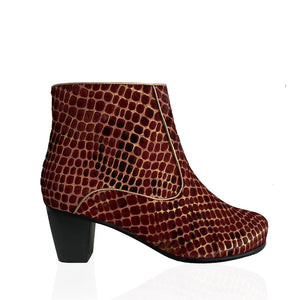 ÚTSALA 50% AFSLÁTTUR ADDÚ rauð/gull (Stærð 40)
Fullt verð / Regular price 39.900 kr 19.950 kr
Lager útsala.  Við bjóðum á útsölunni nokkur pör af vinsælum skóm og vörum úr eldri línum á frábæru verði. Vörurnar eru allar til í takmörkuðu magni og stærðum og verða ekki framleiddar aftur. Vörunum má skipta innan tveggja vikna.
ÍSLENSKA: Einstök lág ökklastígvél, handgerð úr hömruðu hesta skinni með gyllingu. Mjúkt leðurfóður og tempur innlegg í botnunum gera stígvélin afar þægileg. Sólarnir eru unnir úr sterku en þægilegu gúmmí, sem henta vel við íslenskar aðstæður og hælarnir sem eru 5 cm háir, eru stöðugir, svartir í gegn og henta nær hverri konu sem er. Stígvélin eru leðurfóðruð og þeim er rennt upp að innan. Línan er handsmíðuð í litlu upplagi, í stærðum 36-43.

ENGLISH: Unique low ankle boots, made of luxurious red with gold embossed horse hide. Soft leather lining and memory foam socks make the boots extremely comfortable. The outsoles are made of strong but comfortable rubber, suitable for all weather situations. The heels measure 5 cm, are steady and black throughout, suitable for nearly everybody. The boots are zipped up on the inside.