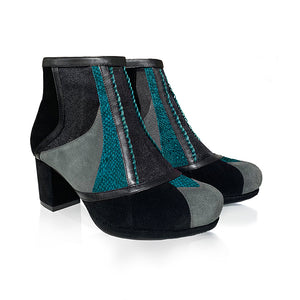 ÚTSALA 50% AFSLÁTTUR Thorhalla blá/blue- Stærð 42
Fullt verð / Regular price 59.900 kr 26.000 kr
ÍSLENSKA: Einstakir ökklaskór, handgerðir í litlu upplagi úr rúskinni, þorskroði og íslensku hrosshári. Blúndurnar framaná skónum eru handgerðar, heklaðar úr hrosshári. Hárin eru unnin frá grunni úr tagli hestsins og eru blúndurnar unnar og litaðar þannig að engar tvær verða nákvæmlega eins. Blúndurnar gera skóna afar sérstaka og skemmtilega öðruvísi, en þær liggja ofaná svörtu gegnsæju neti. Hönnunin er innblásin af íslenskum blómum, mývatnsdrottningu og blóðbergi. Skórnir eru að stóru leyti framleiddir á Íslandi.
Skórnir eru smíðaðir utanum okkar þægilegustu mót sem henta flestöllum, með mjúkum tempur innleggjum ásamt upphækkunum (platform) að framan. 

ENGLISH: Handmade, unique ankle booties, made of soft suede, Icelandic cod fishleather and Icelandic horsehair. The laces on the front of the shoes are handmade, crochet from horsehair, colored, pressed and stitched on on top of a thin, sea through black mesh. Each lace and each pair is a unique peace of art. The shoes are inspired by Icelandic flowers, Myvatn flora and mother of thyme.
The shoes are comfortable and soft.