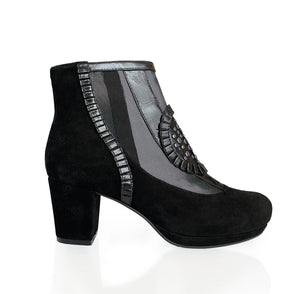 SILJA silfur / silver
Fullt verð / Regular price 49.900 kr 49.900 kr Á ÚTSÖLU - ON SALE
Íslenska: Nýju skórnir okkar Silja eru handsmíðaðir í litlu upplagi. Þeir eru unnir úr rúskinni, olíubornu nautsleðri og gegnsæju neti, ásamt skemmtilegum dökkum silfur hnöppum (gun-metal) Formið er innblásið af hverasvæðinu í Mývatnssveit, þar sem bubblandi hverir mynda bárur og einstök hringform og bylgjur í leirinn.
Skórnir eru afar þægilegir, smíðaðir um okkar bestu mót og með mjúkum innleggjum. Hælhæðin er 6,5 cm - en 1,5 cm kemur til móts við það með upphækun að framan. Raunhæð hæls er því 5 cm.
English: Our new Silja ankleshoes are handmade and limited. They are made of black suede, oiled cow leather and see through mesh, and gun-metal buttons. The design of the pattern is inspired by the hotspring area near Lake Myvatn in Iceland. The boiling mud hotsprings form unique circled patterns, small bubbles and waves that are mirrored into the design.
The shoes are very comfortable, the heel height is 6,5 cm and the platform at the front is 1,5 cm.