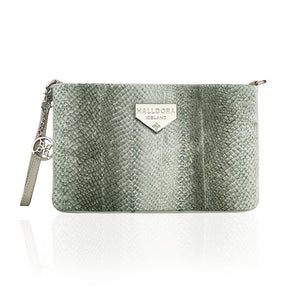 Nr. 16 Laxaroð / Salmon Fish Leather
Fullt verð / Regular price 29.900 kr 29.900 kr Á ÚTSÖLU - ON SALE
Íslenska: Einstaka veskjalínan okkar inniheldur fjölda af veskjum þar sem aðeins eitt veski af hverri gerð hefur verið saumað. Í línunni eru nokkrar gerðir þó framleiddar í 2-5 eintökum og tökum við það ávalt fram.
Veski nr. 16 (5 eintök framleidd)- Handgert veski úr fallegu grá yrjóttu náttúrulegu laxaroði. Veskinu fylgir löng ól yfir öxl, en stuttu ólina og hangandi lógóskrautið má taka af og setja aftur á eftir smekk. Bakhlið veskisins er úr gráu nautsleðri.

English: Our new purse collection is a one of a kind one, as most of the purses are only made as a single item, one of a kind. Some purses come in a quantity of 2-5, and we will always let you know.
Purse nr. 16. (Only 5 made)-  Natural grey salmon leather purse with light grey cow leather back. The purse comes with a removable long strap over the shoulder.